Fly
Alias Corroboree Happy New Year was my best mate and dance partner for 10 years. I spent most of my days in her company. She travelled with me to many countries and showed her enormous talent in Europe and the USA live. Of course many people watched her K9 Freestyle / dogdance display on you tube.
We did K9Freestyle demonstrations at the Clicker Expos in Boston and Los Angeles and won the World Canine Freestyle Organisation's combined live / video competition in Pennsylvania, USA.
We did K9 Freestyle demonstrations at the UK horse dressage championships as well as presented our Carmen, Chaplin, Gladiator and Quasimodo routines in UK television shows; Blue Peter, Big Breakfast and many times at the Crufts. We also took part in two theatre productions of the Heather Millan dance studio in Norwich. We presented the Chaplin and the Western Show routines at the Norwich Theatre Royal. She was the first global K9Freetyle Star.
She sadly died on heart failure on the 3rd August 200. I have arrived back to my parents' home with my Family from swimming in the lake Balaton in Hungary during our holidays. As we were having supper, Fly suddenly came to me and placed her muzzle on my thigh. She looked at me and then fell. She was unconscious and 2 hours later she died. She has been celebrated by the dogdance/ canine freestyle community all over the world.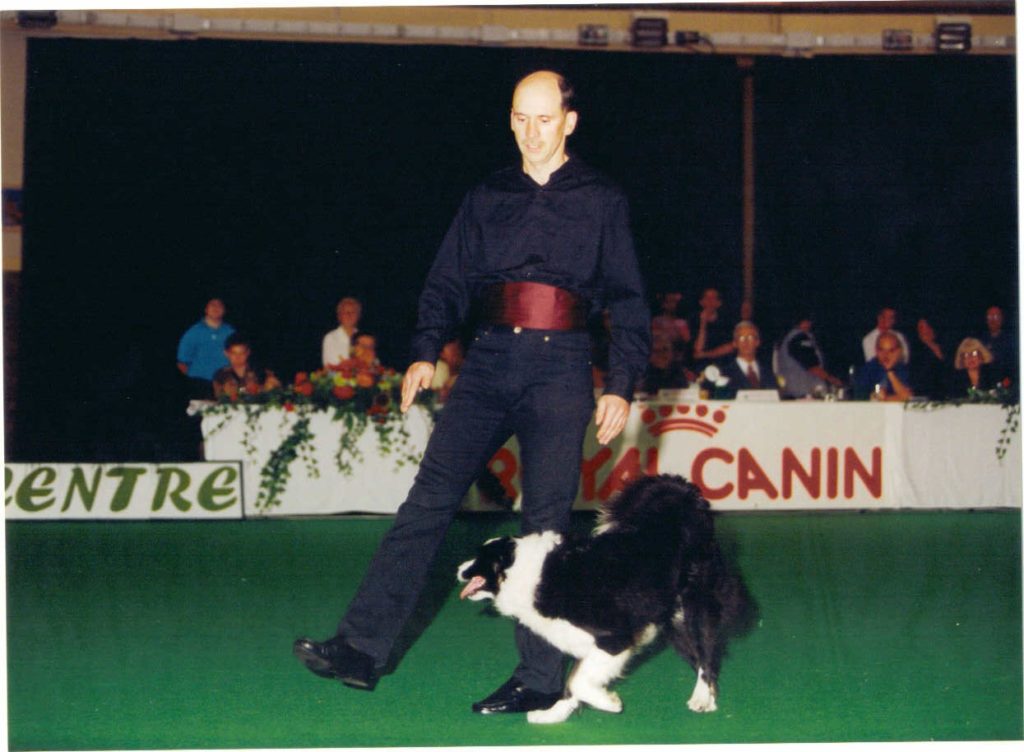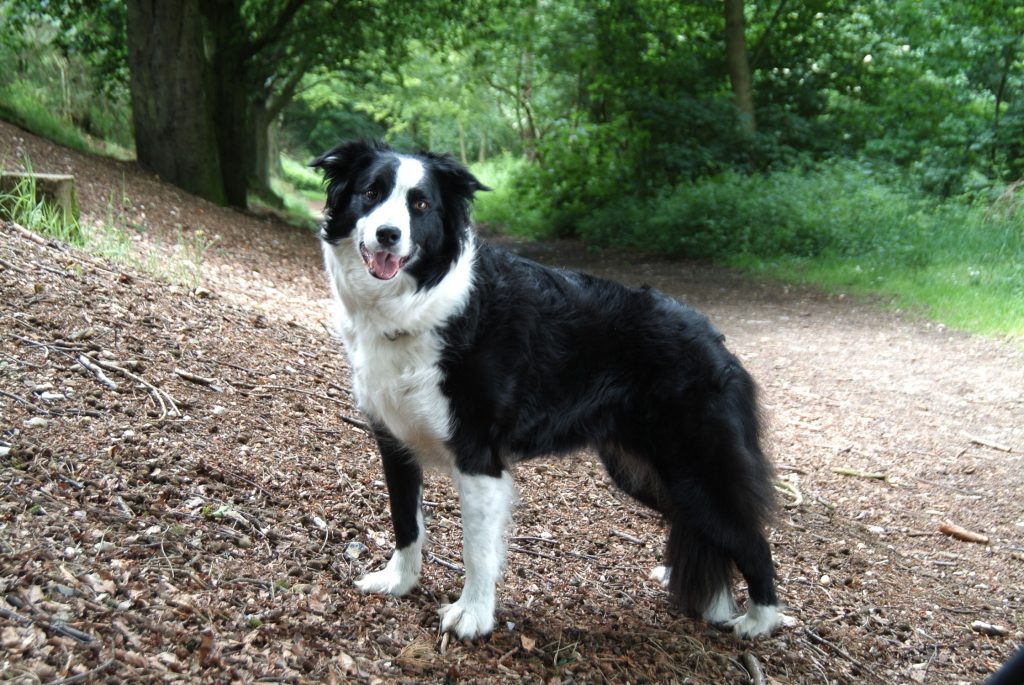 Moon
Alias Foxy is my childrens' favourite dog. Following Fly's death I was looking for a Border Collie x Bearded Collie cross breed. Searching the rescue centres web sites for 6 months I suddenly came across Moon's picture. She was picked up on a farm in Ireland and brought over to the UK by the rescue organisation. She had a bit of a foxy face, hence is her nick name.
She is possibly the most intelligent dog (of course after Fly) I have ever had, however the most untrainable one. She has a huge novelty drive and exceptional senses. She cannot be motivated by food and after retrieving an object twice she runs after it the third time and leaves it. She picks up another item instead. She notices any noise any movement. I have never had a dog which would have such sensitive eye sight, hearing smell, etc. She would be excellent for search and rescue work. Unfortunately, I do not have time and the opportunity to provide her with this activity. However, she likes playing with dogs and searching for mice, rabbits, practically anything that moves. She can do that during walks and she enjoys her easy life.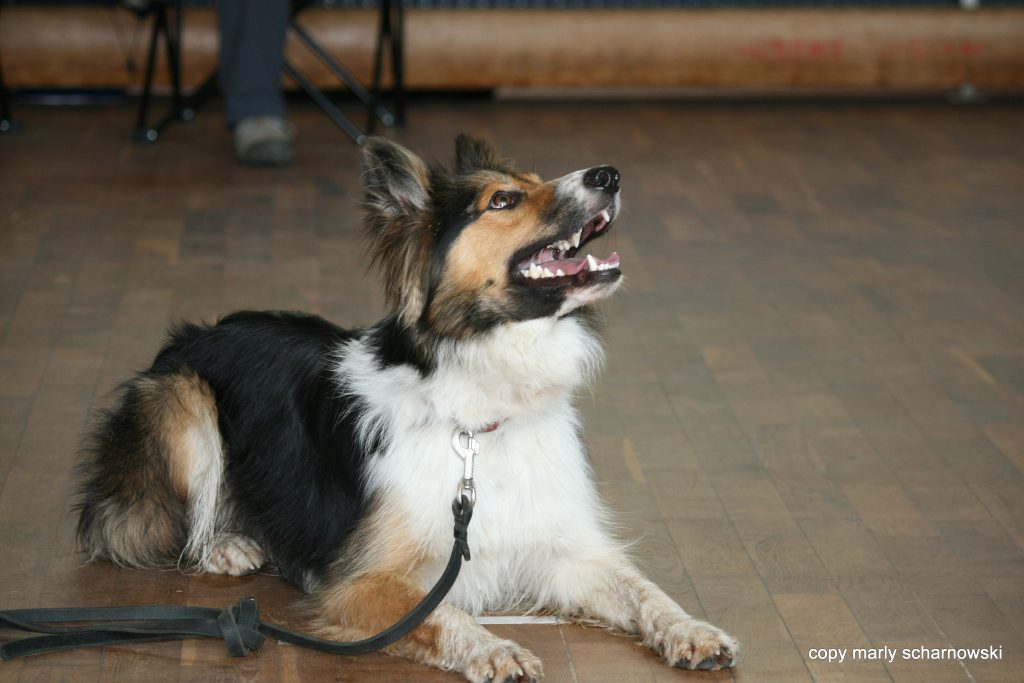 Dixi
Alias Dixy vom Albatros is my new K9 Freestyle partner. Moon has a hip dysplasia and I was in Berlin with her to inject gold particles in her joints. It's a special treatment for hip dysplasia.  The gold particles pressurize the acupuncture points permanently. In consequence the dog does not feel pain and can move freely. As we left the veterinary surgeon with my friend Katrin, we met her friend who had a very nice looking 10 month old brown Border Collie. I was joking with her that I would like to take her dog. To my surprise she said that the breeder has a litter from the same mother as her dog. The evening programme was decided. We travelled from Berlin to Rostock to see the litter. Of course I did not have in my mind to import a Border Collie from Germany. However, when I saw the brown coloured female dog I could not resist the temptation.
I like the quadratic built Border Collies. That is how Elisa's dog look liked. On top of that she had a foxy face. You can see my soft spot for foxy dog faces J Dixi turned out the most paradoxical type. Definitely not the type that I expected. She is low, long with a barrel like chest. She is a brown – white Dachshund on longer legs with cheeky puppy face even now that she is 5 year old J I have completed a heelwork to music routine with her and planned to do freestyle routine and compete. However, due to my busy workshop and work schedule at my behaviour and training practice HappyPets I haven't had the time to start competing so far.
Dixi is also a very talented high drive dog and enjoys practicing dog dance / K9 Freestyle. I truly hope that I can start doing demonstration and compete with her as well to show her talent.