How did I become involved in Dog Dance
K9 Freestyle – Heelwork to Music
Before competing and making up your own choreography and performances, one needs to get a dog.
Starting with Fly
It all started in 1996, when I had just set up my "HappyPets" Pet Behaviour and Training Practice. By then I had been training, showing and breeding dogs for over 15 years. I had trained from Boxers, Dobermans and German Shepherds, to Neapolitan Mastiffs (most of working breeds). Having also competed and instructed Schutzhund classes.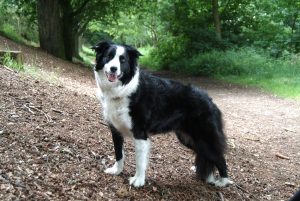 At this time I went to the Discover dogs Show in London and saw Donelda Guy and Mary Ray performing their fabulous Heelwork to Music routines. I had no dog at that time but during those 2-3 minutes when Donelda and Mary moved around the ring as their dogs circled, spun, whirled and weaved. There and then I knew that once I got a dog, the activity I would get involved in was Heelwork to Music.
It took 2 more years to get a dog, and I was not even aware of what an excellent and amazing dog I would get. One day I got a phone call from a lady, who brought her Border Collie puppy Fly to my puppy classes. She said that Fly was getting very assertive towards her. Sometimes showing aggressive behaviour, and especially when giving instructions, and Fly wanted to do something else. She hadn't had a dog beforehand and found Fly's behaviour challenging. Given this situation, she would like to rehome Fly if she could find a good home for her.
I remembered Fly from the classes, and that she was an assertive and cocky puppy. Thinking it was time to get a dog, why not have a look at Fly? After seeing Fly again, I found she was very interested in any game. She would have fetched the stick and the ball for the 30 minutes that I stayed. I came home and the next day I phoned Fly's owner to say that I would like to keep her.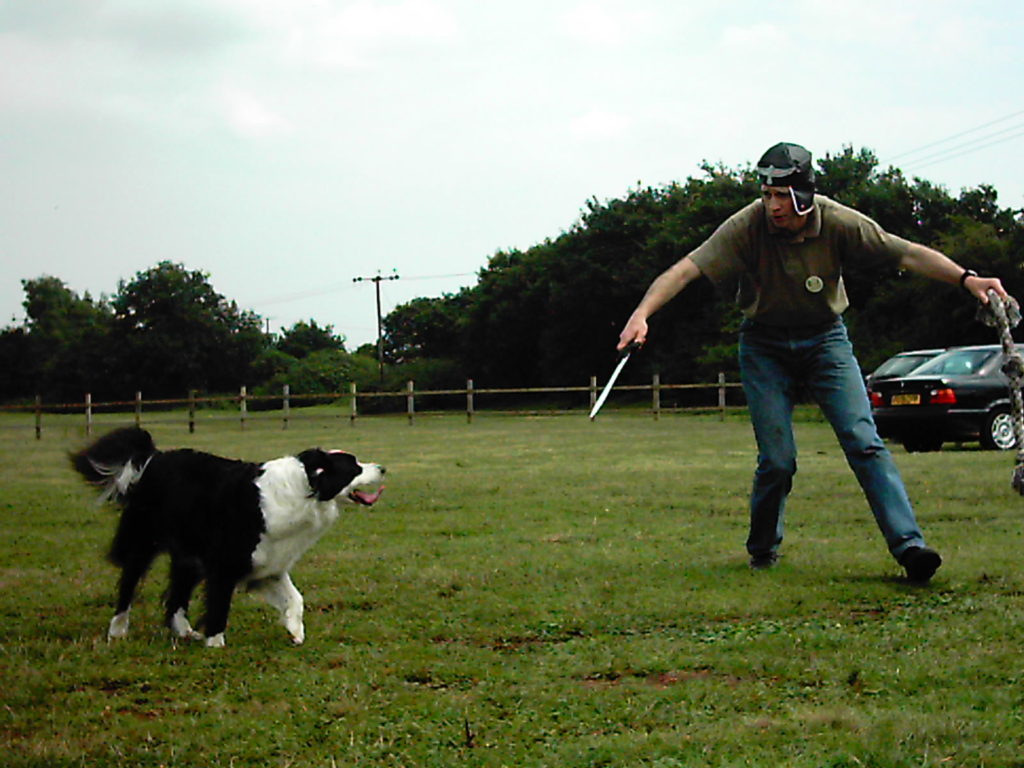 Heelwork to music
OR

Canine freestyle?

Fly turned out to be a wild dog indeed, with a lot of energy to channel. She had some basic obedience training, so I immediately started teaching her heelwork, advanced obedience and basic tricks: Roll Over, Piruette, Salute, High Ten, etc.

A year later I met Annie Clayton at the Turid Rugaas Workshop. After seeing Fly do different tricks, Annie convinced me to enter the Heelwork to Music competition in Leicester. I entered, and to my surprise, won the Novice group. This competition had a very strong influence on my progress. I had seen, among others, the super routines from Donelda Guy (All that Jazz) and Mary Ray. However, I realised that Donelda's routine, as well as my Carmen routine did not fit strictly the HTM rules. I then noticed that in the USA, the sport had been called Canine Freestyle, and our routines fitted K9 Freestyle better, rather than HTM.
Charlie Chaplin
I was very inspired by my success at the competition. After seeing Donelda's Freestyle routine, I decided that my next performance would be a sort of dance routine to Spanish music. So I started phoning dance teachers in Norwich. I needed someone who could teach me some basic Spanish dance steps and dance style. This would help me choreograph the routine that I would perform with Fly. I found a very kind and extremely talented teacher called Heather Millan, who after trying to teach me Spanish dance steps, realised that it was easier to find me a routine theme that would match my natural steps, rather than teaching me to dance. She asked me "has anyone done Charlie Chaplin?" I said "not that I am aware of!" and the Charlie Chaplin routine was born.
Then for the next routine I wanted to find a different theme; a sort of drama, that differed from the Charlie Chaplin. Heather suggested to look at costumes in a costume book. First I saw some Indian costumes, Batman, however the next one was "The Gladiator". And my eyes lit up. I could see some fighting scenes with Fly and no hesitation, I knew straight away; this is it! This is what I was going to do!